NGM 1000 - газовый мониторинг N20 и CO2
NGM 1000, новый монитор от Stephan, является благоприятно оцененным решением чтобы точно измерить пять изменчивых обезболивающих агентов, N20 и CO2.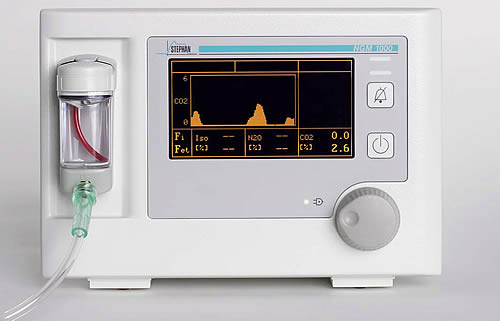 NGM 1000, the new monitor from Stephan, is a favourably priced solution for precisely measuring the five volatile anaesthetic agents, N20 and CO2.

Not only is NGM 1000 powerful, compact and easy to operate, it has been specifically designed to grow with your requirements. In terms of flexibility and functionality NGM 1000 is hard to beat.
If you choose the Pulse Oximetry option, NGM 1000 comes supplied with an reusable Dura sensor.
A full range of Stephan/Nellcor pulse oximetry sensors is also available. lf you need a battery back-up to make the monitor independent of mains supply, NGM 1000 can be equipped with a rechargeable battery for an hour of mains-free operation.
NGM 1000 is flexible enough to meet your requirements now and in future. ln all, there are two versions available:
Anaesthetic agents, CO2 and N20
Anaesthetic agents, Co2, N20 and Sp02
At the heart of NGM 1000 is a new developed gas sensor, incorporating the very latest in innovative micro-optic technology. Since this sensor has no moving parts, it is particularly robust and reliable with a small pump ensuring a constant suction flow of 150 ml/min for the sample gas. Beside mains power supply an external 12V DC socket is integrated.


The NGM 1000 gas monitor continuously measures the five volatile anesthestic gases, nitrous oxide, and carbon dioxide. For each respiratory cycle, all gas concentrations are numerically displayed with their inspiratory and expiratory values.
In addition, the CO2 curve is graphically displayed. Gas measurement is carried out using a newly developed sensor. Not having any moving parts, this sensor is extremely sturdy and reliable. A small pump ensures a constant sampling of 150 ml/min.
Measurement and limit values are displayed in graphical and/or numerical form via a high-resolution electroluminescence (EL) display screen with an active viewing surface of 108 x 58 mm.
All relevant parameters are monitored via adjustable alarm limits. The monitor is equipped with a hierarchically structured alarm system. Control panel is equipped with rotary knobs and operation is simple and intuitive.
A pulsoximeter function (Nellcor) is available and can be integrated into the NGM 1000 on request.
General specifications
Measured parameters
CO, N20, 5 anaesthetic agents
optional: SP02 (Nellcor)
Gas measurement
breath to breath resolution
Response time
< 500 ms
Principle of measurement
advanced infrared technology (ILCA),
sidestream method
Accuracy
as per ISO 11196 / EN 864
Suction rate
150 ml/min
Display

High-contrast amber electroluminescent display with excellent readability even from extreme angles.
Size of the active surface
108 X 58 mm
Graphic display of C02 curve
Numerical display
Minimal inspiratory concentration (Fi) of C02,
N20 and of selected anaesthetic gas
End-tidal concentration (Fet) of C02, N20 and
of selected anaesthetic gas
Oxygen saturation (SP02)
Heart rate
Technical features and performance data
Dimensions WxHxD
24 x 16.6 x 16.5 cm
Weight
< 3 kg
Power consumption:
peak consumption in the warm-up phase < 30 W
during operation < 20 W
Operating voltage
100 -240 V, 50/60 Hz
external power pack with country-specific
connections
Battery backup operation
> 1 hour
Outputs
RS 232 Medibus (software upgrade on request)
RS 232 (only for service)
Sample gas outlet (for sample gas return or sample gas supply to anaesthetic gas scavenging system)